Lambda S.p.A. has its roots in research projects in the cultural field: the conservation of the historical and artistic heritage is one of the company's objectives.
In the field of preventive conservation and microclimatic monitoring in museums, the goal of Lambda S.p.A. is to prevent, recognize and combat deterioration processes through the careful and constant study of thermo-hygrometric conditions. The main causes of degradation are in fact attributable to variations in the environmental balance: sudden changes in temperature, exposure to light, and high humidity can initiate irreversible processes which, over time, cause the deterioration of the work of art.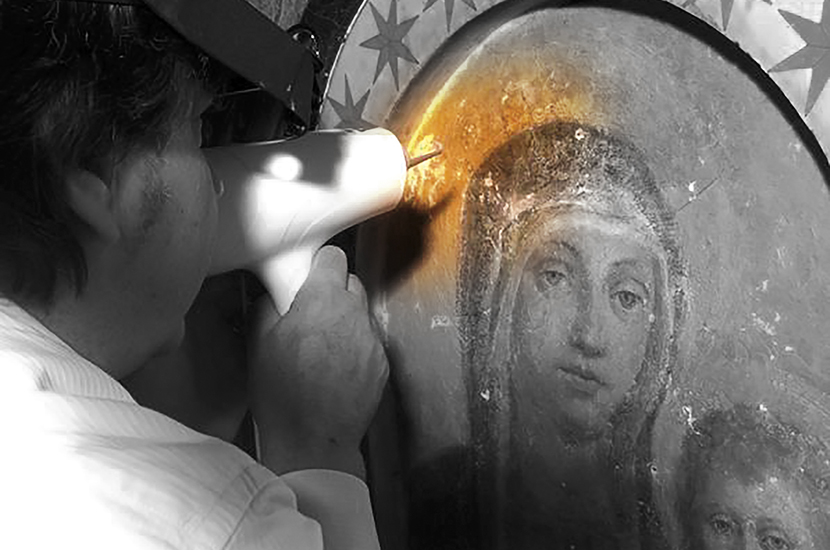 Laser restoration equipment is designed, manufactured and tested in the Lambda S.p.A. laboratories.
This technology allows the cleaning of any type of material without damaging or altering the chemical-physical characteristics of the product. Laser cleaning systems can be used both in the laboratory and in situ, on organic and inorganic surfaces. The physical principle of ablation according to which the laser beam removes the black crust without affecting the underlying layer, is in fact a guarantee of a cleaning without mechanical stress and abrasions.
Our main clients are:
Superintendencies (Cenacolo Viciano, Sop.za B.A.P. di Milano)
Museums (Necropoli Vaticana, Fabbrica di S. Pietro)
Foundations (Centro Internazionale Studi di Architettura Andrea Palladio, Vicenza)
Analysis and restoration laboratories (Istituto Superiore per la Conservazione e il Restauro di Roma)
Libraries, Archives
Design studios
FOR MORE INFORMATION
DISCOVER LASER TECHNOLOGY